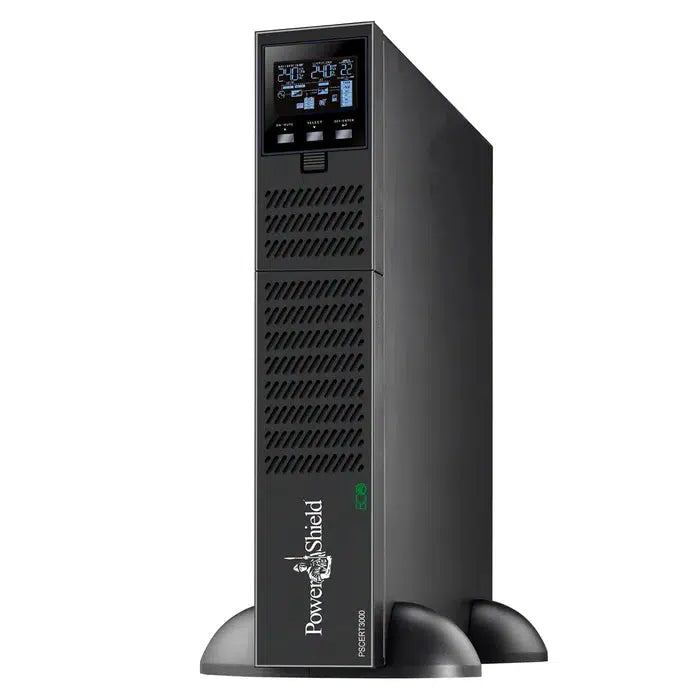 PowerShield Centurion RT 3000VA UPS
Sold out
Original price
$2,592.25
-
Original price
$2,592.25
Availability:
Out of stock
PowerShield Centurion RT 3000VA True Online Double Conversion UPS
The Centurion RT features true online double conversion. As our highest single phase power density UPS, this sophisticated range will provide the most comprehensive protection for mission critical devices such as sensitive networks, computers, servers, telecom applications, as well as industrial applications.
Meticulously developed by PowerShield engineers to be a world leading technology UPS, the Centurion RT addresses absolutely all requirements and features as has been demanded by the sophisticated Australian power consumer and hence stands in a class of its own, as a world leading UPS technology.
Features:
Offering the best surge protection in its class to protect against damaging surges
The Centurion RT is high-density UPS with output power factor 0.9 to provide higher performance and efficiency to critical applications.
The front panel LCD display panel is readily viewable whether the UPS is horizontal or vertical. It displays all critical and noncritical parameters, including the estimated battery backup time remaining.
The Centurion RT can be easily installed as a floor-standing tower or in a 19-inch rack.
This UPS comes with programmable power management outlets allowing the user to control the load segments, thereby extending battery backup times to mission critical devices by shutting down non-critical items.
This feature can turn off and isolate the UPS in the event of fires or other emergencies.
It has an advanced ECO mode, which allows the UPS to operate at a very high efficiency, up to 98%. When the utility mains input voltage is within the ECO range the UPS saves energy by passing the mains supply directly through to the load, while the inverter continues to operate in a passive mode.
The Centurion RT has been designed with a larger charger than other UPSs ensuring rapid recharge times when adding additional battery banks.
Incorporates hot-swappable internal battery packs which can be accessed via the front panel for maintenance changes, keeping the UPS operational during battery replacement. Additional battery banks can be added to increase battery backup time.
Optional Accessories:

PSSNMP - SNMP card (option to connect a PSEMD)
PSEMD - Environmental Monitoring Device for temperature & humidity
PSModbus - Modbus card
PSAS400 - AS400 dry contact card
PSRK - 1RU rail kit
PSRTBB6, PSRTBB12 - Extra battery bank
MBS2k, PSMBS3k- Maintenance Bypass Switch